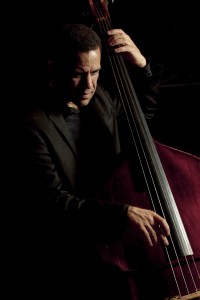 Bassist, composer, producer, vocalist, and educator Paul Beaudry is a San Francisco native now residing in New York and making great strides on the Big Apple jazz scene. Since relocating to New York in 2001 (just a few months before the tragedy of 9/11), Beaudry has toured worldwide as a sideman with Steve Turre, Wycliffe Gordon, Allan Harris, Winard Harper and Eric Lewis and also performed in concerts or on recordings with such jazz greats as Clark Terry, Grady Tate, Jimmy Cobb, Charlie Persip, Frank Wess, Cecil Bridgewater, Billy Harper, Eddie Henderson, Roy Hargrove, Johnny O'Neal, Bruce Barth and Dave Valentine. He is the leader of the quartet Paul Beaudry & Pathways which in 2010 released its self-titled debut on Dancing Spirit Records. The group was chosen for a 2010 Latin America tour and a 2011 South and Central Asia tour for the Rhythm Road: American Music Abroad program co-sponsored by Jazz At Lincoln Center and the U.S. Department of State's Bureau of Educational and Cultural Affairs. On tour they travel as U.S. cultural jazz ambassadors giving concerts and workshops to diverse audiences of all ages. His following recording, Paul Beaudry & Pathways – Americas, a jazz-inspired collection of folk and popular compositions from eight Latin American countries was released in 2012 on the Soundkeeper label. Another recording, Paul Beaudry & Adam Rafferty – New Tomorrows, features guitar-bass duo with vocals, percussion and strings and is due for release soon.
Starting out his musical studies at age 5 on piano and age 8 on drums, Beaudry took up electric bass at age 18. Several years later he started playing acoustic bass and in 1999 finished as runner-up in the International Society of Bassists Jazz Competition. He has studied bass with John Clayton, Rufus Reid and Buster Williams and is influenced by their playing as well as by bass greats Ray Brown, Ron Carter and Paul Chambers.
As a composer, Beaudry has written large scale and short form pieces in both the classical and jazz idioms. His most ambitious work, a one hour, six-movement jazz suite for 12 instruments entitled "The Billy Childs Suite" debuted in 1998. He contributed three compositions on Paul Beaudry & Pathways – the modal blues opener "84-14," the lyrical waltz-time number "My Friend Vicki" and the uptempo burner "Mr. Henderson," his ode to the late, great tenor saxophonist Joe Henderson.
Beaudry has also produced recordings and arranged numerous compositions for artists in the jazz, folk, world music and popular music genres, such as his producing, arranging, and performing for Buyu Ambroise's Blues in Red Haitian jazz project and the debut recording of Christian folk singer-songwriter, Todd MacDonald.
As a committed educator, Beaudry has taught at the Teachers College at Columbia University, Hunter College, York College, Hunter College High School, and the Stanford Jazz Workshop. He has given master classes, clinics and workshops for students and young musicians worldwide and has been a lecturer and clinician for the Colden Center Jazz Project since 2001. Beaudry now holds a M.A. in Jazz Performance from Queens College and is an in-demand performer and educator in New York and beyond.