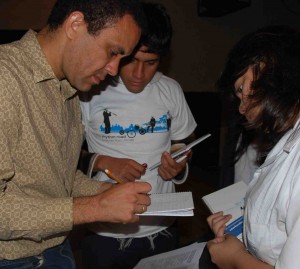 For private lessons I start with the students' goals. From there we work on a path to reach that goal or set of goals.
I use a mixture of instructional books written by other musicians, materials and techniques that I have developed over the years and work on music that the student would like to learn. In this way we can keep a focus on the music the student wants to know while learning more about music (and the bass) in general so the student can learn new music faster in the future.
Among the topics we cover are: learning groove, swing, improvisation, reading, theory, ear training, transcribing, professionalism, and goal setting. Most students like to focus on just a few areas. We also keep a focus on how to play the healthy way to reduce muscle tension and maximize stamina and relaxation. I also believe it's important to learn hassle-free guidelines for diet, balance and stress reduction to stay positive and energized all day every day as well as learning the correct mindset for performing live or in the studio.
Paul Beaudry has been teaching privately since 1989 (his first student was one of his high school teachers) and has studied jazz bass with: John Clayton, Buster Williams, Rufus Reid, Rodney Whitaker, Reuben Rogers, Alphonso Johnson and others. As a fellowship student at the Aspen Music Festival he studied with the great classical bassists Bruce Bransby and Albert Laszlo. Later he continued studying classical bass with Dennis Roy of the Boston Symphony Orchestra. Graduating Magna Cum Laude with a B.M. in Composition from Berklee College of Music and a M.A. in Jazz Performance from Queens College he is currently teaching at the Teacher's College at Columbia University. Beaudry is available for teaching acoustic bass or electric bass as well as classical or jazz harmony, arranging and composition.