Paul Beaudry & Pathways – Americas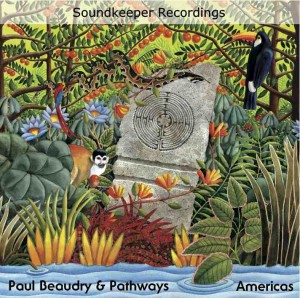 "Playing musical prospector can be fun while you have to sift your way through a great deal of sonic sand and silt the occasional gold nugget makes an appearance and the latest from Grammy winning Paul Beaudry & Pathways certainly qualifies. This sophomore effort for Beaudry & Pathways walks the musical tightrope of world music but with incredibly diverse jazz sensibilities.
While the release is somewhat of an end result of music they heard while on their 2010 Latin American tour, the music featured here is from Trinidad & Tobago, Nicaragua, Cuba, Brazil and…Brooklyn? "Harmonia Mundi" is the only Beaudry original and is the only North American influence featured here. An incredibly organic all most live in studio feel to this funk infused jam fits perfectly within the more South American and Caribbean influences found here. Word of mouth can make or break many a career and on the recommendation of Brazilian trumpet master Claudio Roditi the tune "O Que E Amar" written by Johnny Alf makes a welcome addition to the flavor and dare I say "fun" of this delightful release. Alf was a tremendous influence to the great Antonio Carlos Jobim and considered by many including writer Ruy Castro  as the true father of the bossa nova. A steady and infectious groove with strong lyrical development there is simply missed steps through this well thought out and incredibly well paced outing. Trinidad pianist Clive "Zanda" Alexander taught the Beaudry & Pathways the Olive Walke Trini folk song "Every Time Ah Pass" which the band continues to play live including the arrangement they literally learned on the fly.
A rock solid 4tet does what many have tried and with mixed results at best, transcending what may be considered more world and Latin flavored genres into a more modern jazz setting without losing the appeal or authenticity of the music in their translation.
A superlative effort. Latin music fans will find a great deal to enjoy on this superior release." – Brent Black, Bop-N-Jazz, criticaljazz.com, See full review
"It's accessible and lively enough to win over the Spyro Gyra crowd, while the richly inspired playing will likely keep purist jazz fans reaching for the repeat button on several tracks. Count this among this year's most original and enjoyable jazz releases." – Lucid Culture, June 20, 2012, See full review
"Take[s] you on a sonic excursion through the various countries of Central and South America … lots of exciting music here" – George Harris, jazzweekly.com, See full review
"A jazzy celebration of the western hemisphere … populist and bouncily accessible … the party rolls on and a good time is had by all. Check it out." – Chris Spector, Midwest Record, See full review
"A very enjoyable disc with wonderful music and state-of-the-art high resolution sound … Highly recommended." – Teresa Goodwin, positive-feedback.com [High-End Audio Magazine], See full review
Paul Beaudry & Pathways (self-titled)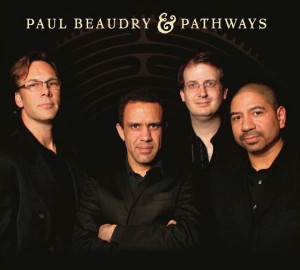 "It's a pleasure to hear Paul's latest group, a group that flows as one. Paul's energy and sound do more than just provide a foundation for all, he blends beautifully with each personality. Whether they're playing a head-bobbin' 'Moody Poodles And Mooses' or a brighter 'Donna Lee', all of the musical and soulful elements are there. This recording makes me smile as I attach myself to their great sounds. Indeed, they've omitted the remainder of the ensemble's name. It should be: PATHWAYS TO SOME SWINGIN' FUN." – John Clayton, multi-Grammy award winning bassist, composer, arranger and conductor, www.johnclaytonjazz.com
"Jazz in 2010 is a funny thing. With so much tradition to carry, it can sometimes come across as a somewhat heavy, overly studied activity. Bassist Beaudry and his quartet Pathways bring a balance of lightness and reverence, dexterity and a hipness informed by an impressive range of post-bop jazz styles. His debut recording is filled with intelligence, warmth, and wit – all qualities that amount to the promise of more compelling music to come. Beaudry's one to watch." – Ashley Kahn, author of Kind Of Blue: The Making of the Miles Davis Masterpiece and A Love Supreme: The Story of John Coltrane's Signature Album
"An amazing new release by bassist and composer Paul Beaudry is innovative and most enjoyable. His quartet, 'Paul Beaudry & Pathways,' swings through mostly original compositions by the bassist and several by his pianist and saxophonist.  Beaudry's fresh approach to his compositions and playing will give the listener an enjoyable hour of music.  The bassist gets a big, woody sound from his instrument and one can hear the influence of his mentors, Ray Brown, Rufus Reid and John Clayton.  A most impressive debut recording. Five stars." – Paul Pearce, Bass World Magazine
"Pathways' debut recording is a SUCCESS! There are a few aspects of this musical offering that stands out. Paul Beaudry constructs EVERY solo with rhyme, reason, and musicality. He provides just the right support. Beaudry most definitely knows his role as a bassist/bandleader. Reminiscent of greats ala Ray Brown and Paul Chambers. Checkout his solo on 'Moody Poodles and Mooses.' The musical depth of Pathways seems immeasurable. From the fiery opener '84-14' to the boogaloo 'Blueslike' these guys are at home. Checkout the conversation between Bennett Paster (pn), and Tim Armacost (t. sax) on 'Blueslike' as Beaudry and Drummer Tony Jefferson navigate beautifully through a groovy-yet deceptive form. Two stand outs on this CD are 'Brownskin Girl' and 'But Beautiful.' 'Brownskin Girl' is an upbeat calypso. The catch: It's a bass feature. Beaudry plays the melody with perfect intonation and Jefferson lays down a tight groove you can't help but bob, tap, or dance. Tony Jefferson's rendition of Jimmy Van Heusen's 'But Beautiful' is fabulous. The accompaniment Paster and Armacost provides is stellar – never in vocalist Tony Jefferson's way. Jefferson is a special talent equally skilled in the art of jazz drumming and singing. I feel EVERY phrase he sings. Do yourself a favor: put 'But Beautiful' on repeat, or if you have a playlist of ballads – add it. Again, Pathways debut Recording is a SUCCESS! I look forward to hearing this group live…" – Jerome Jennings, NYC drummer, www.jeromejennings.com
"Paul, congratulations on a great CD. I really love the interplay between the musicians and your bass sound is very rich and warm. I also enjoyed your bass solos, which are very well constructed. Bravo on a wonderful accomplishment." – Marcus McLaurine, NYC bassist, www.marcusmclaurine.com
"Everyone sounds great. Great tunes and nice [vocal] solo on 'Donna Lee'. Bass sound on the recording is great too!" – Donald Vega, NYC pianist, www.donaldvega.com
"Loving it! That version of 'Donna Lee' made me smile. The engineer got a very nice bass sound on the recording. It shines on 'Brown Skin Girl'. Will listen to it more and more…" – Marco Panascia, NYC bassist, www.marcopanascia.com
"It's awesome! I really loved your tunes and the way your bass sounds. Great job!" – Shirley Crabbe, renowned NYC jazz vocalist, www.shirleycrabbe.com
"I am digging on your album—-and you can scat something fierce on 'Donna Lee'! That was a delightful surprise that I wasn't expecting….a man of many talents, and this album lets you swirl all of them together….your voice, your bass, your band leadership, your songwriting….an enjoyable musical journey through lots of different styles which stops to smell the roses along the way." – Joanne Weaver, NYC jazz vocalist