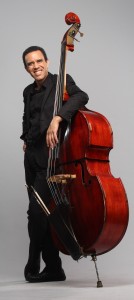 Bassist, composer, producer, vocalist, and educator Paul Beaudry is a San Francisco native now residing in New York and making great strides on the Big Apple jazz scene. Growing up in a biracial family, of an African-American mother and French-Canadian father, in the culturally diverse setting of California's Bay Area gave Beaudry an early sensitivity and appreciation for people with different backgrounds from all over the world. The vibrant local music scene as well exposed him to the best of jazz, gospel, blues, rock, funk, R & B, Latin, and other styles.
Since relocating to New York in 2001 (just a few months before the tragedy of 9/11), Beaudry has toured as a sideman with Steve Turre, Wycliffe Gordon, Allan Harris, Winard Harper and Eric Lewis and also performed in concerts or on recordings with such jazz greats as Clark Terry, Jimmy Cobb, Charlie Persip, Frank Wess, Cecil Bridgewater, Billy Harper, Eddie Henderson, Roy Hargrove and Dave Valentine. He is the leader of the quartet Paul Beaudry & Pathways which in 2010 released its self-titled debut on Dancing Spirit Records. The group was chosen for a 2010 U.S. State Department tour of Central America and a 2011 tour of Central Asia through The Rhythm Road: American Music Abroad program co-sponsored by Jazz At Lincoln Center. His following recording, Paul Beaudry & Pathways – Americas, a jazz-inspired collection of folk and popular compositions from eight Latin American countries was released in 2012 on the Soundkeeper label. On tour they travel as U.S. cultural jazz ambassadors giving concerts and workshops to diverse audiences of all ages. Countries included in their travel are Trinidad, Suriname, Nicaragua, Honduras, Kazakhstan, Kyrgyzstan, Bangladesh, and India.
Starting out his musical studies at age 5 on piano and age 8 on drums, Beaudry took up electric bass at age 18. It was his frustration with the rules of the 1995 Thelonious Monk International Bass Competition that caused him to switch to upright bass. As he explains, "I wanted to compete on electric bass, which I had been playing for a couple of years at that point. But they said no. Here I had all these Jaco Pastorius records and I said, 'How could you not recognize electric bass as a legitimate instrument?' So I got really mad and started playing upright, just so I could compete." He eventually put an audition tape together of his upright bass playing and although missed being a finalist in the Thelonious Monk Competition he won the 1995 San Francisco Jazz Festival Scholarship, won the 1996 jazz bass fellowship for the Aspen Music Festival and finished a couple years later as runner-up in the 1999 International Society of Bassists Jazz Competition. He has studied bass with John Clayton, Rufus Reid and Buster Williams and is influenced by their playing as well as by bass greats Ray Brown, Ron Carter and Paul Chambers.
As a composer, Beaudry has written large scale and short form pieces in both the classical and jazz idioms. He started by writing songs in his spare time in high school after purchasing a four-track recorder. He learned how to play guitar, along with bass, drums, and piano and played all the instruments for his original recorded music. At age 19 still self-taught in composition at the time he wrote his first classical piece for large wind ensemble, "My Grandfather's Clock". His current most ambitious work, a one hour, six-movement jazz suite for 12 instruments entitled "The Billy Childs Suite" debuted in 1998. Recently he contributed three compositions on Paul Beaudry & Pathways – the modal blues opener "84-14," the lyrical waltz-time number "My Friend Vicki" and the uptempo burner "Mr. Henderson," his ode to the late, great tenor saxophonist Joe Henderson. His composition "I'll Always Miss You" was also featured on piano great Eric Lewis' debut recording Hopscotch. More original compositions and arrangements will be highlighted on the upcoming recording, Paul Beaudry & Adam Rafferty – New Tomorrows, featuring the guitar-bass duo with multiple vocals, strings and percussion and is due for release soon.
Beaudry has produced recordings and arranged numerous compositions for artists in the jazz, folk, world music and popular music genres. He produced, arranged, and played bass on Buyu Ambroise's Blues in Red project which fused Haitian drum and dance music with jazz and on his two follow-up recordings, Marasa and Jazzpora. He also produced the debut recording of Christian folk singer-songwriter Todd McDonald, Changes.
As a committed educator, Beaudry has taught at the Teachers College at Columbia University, Hunter College, York College, Hunter College High School, and the Stanford Jazz Workshop. He has given master classes, clinics and workshops for students and young musicians worldwide and has been a lecturer and clinician for the Colden Center Jazz Project at Queens College since 2001.
Originally on track to become a computer wiz, Beaudry had a radical change of course in 1996. As he recalls, "I graduated from high school in 1990 and then went into a computer science program at Cal Poly (California Polytechnic State University in San Luis Obispo). I finished my first degree in computer science but then I got tired of Silicon Valley because I wanted to play music so badly and decided to come to the East Coast and just play jazz."
After studying extensively with the great bassist-composer-arranger John Clayton, Beaudry relocated to Boston and enrolled at the Berklee College of Music. "I was a double major in classical composition and film scoring," he recalls. "During the day I would show up with my conducting baton and be writing out classical stuff and conducting film scoring sessions, then at night I was playing gigs around town. And by the time I graduated, I was playing with some of my favorite musicians on the Berklee faculty."
After graduating, Beaudry moved to New York City in 2001, just a few months before World Trade Center tragedy. One of his first jobs in town was subbing for bassist Tom Barney on the Broadway musical, The Lion King. He went on to work with a long list of jazz notables, including drummers Charlie Persip, Jimmy Cobb and Winard Harper, saxophonists Billy Harper, Antonio Hart, Joel Frahm, Ron Blake and Don Braden, pianists Cyrus Chestnut, Bruce Barth, Dena DeRose and Mike Longo and vocalists Allan Harris, Paula West, Rene Marie, Carla Cook, Cynthia Scott and Miles Griffith. In 2002, Beaudry was selected as a member for Jazz Aspen's JAS Academy directed by Christian McBride, the Steans Institute for Young Artists at the Ravinia Music Festival directed by David Baker, and the Kennedy Center's Betty Carter Jazz Ahead Program directed by Nathan Davis. Beaudry now holds a M.A. in Jazz Performance from Queens College and is an in-demand in New York and beyond.