Round #2 for Paul Beaudry and Pathways to head out on a Rhythm Road: American Music Abroad international tour! We're so happy to be going to South and Central Asia and this time very prepared in terms of what to bring. Our tour this time brings us to Kazakhstan, Kyrgyzstan, Bangladesh and India. One of the first things I notice in the planning stages is the mixture of languages we'll be dealing with. Last year was easy – Spanish and English. This year it looks like it will be Russian, English, Kazakh, Kyrgyz, Bangali, and maybe Hindi. Doing some advance research all of the countries in this region share a common history in being connected by the Silk Road, the ancient trading routes that connected China and India to Europe. The Romans in particular were very fond of the gold, fine silk products and spices of India, the silk having originally come from China. After the fall of the Roman Empire the trade route continued until the 15th century. Throughout that period those who controlled portions of the Silk Road became very wealthy so the South and Central Asian region has a history of common kings, dynasties and rulers.
It was finding an alternative to the Silk Road that prompted Columbus to sail west of Europe in search for India. Well we all know how that story went, some still call Native Americans "Indians" to this day but this goes to show the length a king would go to control a piece of the Silk Road or in Spain's case to find another sea trade route altogether to bring the riches of China and India to Europe.
I'm planning our repertoire to be a mixture of the first Paul Beaudry & Pathways CD, the new "Americas" CD (our arrangements of Caribbean, South and Central American tunes we learned on our last tour plus a few more from the region), some new songs we haven't played yet and whatever new music we find along the way. We still plan to learn at least one new song in each country. So 4 countries, 12 cities (plus a 2-day layover in Istanbul, Turkey) and 16 airline flights in 30 days – here we go.
We arrive in Astana the capitol of Kazakhstan close to midnight completely beat. We left JFK the night before at 9:45pm, had an 8-hour flight to Frankfurt for a 2-hour layover then a 5-1/2 hour flight to Astana. We're now 10 hours ahead of Eastern Standard Time and our body clocks are completely turned around. But Astana is beautiful. I'm floored, I had no idea this city was so amazing. Not much time to relax we're extremely tired and we have a 6am lobby pickup to fly on another small plane for a two hour flight to Aktobe. Early next morning we're met by our Embassy guides that will be with us for the rest of our travels in Kazakhstan – Maren Payne-Holmes from Minnesota and Zhanar Kul-Mukhammed from Kazakhstan. And we're off for another flight.
Upon arrival in Aktobe we check into a hotel for a bit then head straight to a well-needed lunch, our first real food in two days. We find that there are local delicacies that are Kazakh and some that are Russian from Soviet times. Fermented mare's milk and horse meat seem to be the top Kazakh favorites but for now a Turkish menu will do.
In our tour plans I'm noticing several events for American Corner. American Corner turns out to be a group which hosts events at libraries and other public spaces to showcase information about American culture. The attendees are normally college and high school students, teachers, researches, or any one else in the general public that's curious about America. Our first American Corner event is a comfortable sit down setting at a library. There are press cameras taking pictures and video as we come in and prepare for our information session/performance. Some attendees are also a part of an 'English Club', some are jazz fans, and some have never heard jazz before but all are curious about jazz and American culture. We talk a bit about us, about jazz, about New York, play a few short songs and talk about improvisation and music. Along the way we get people to clap and sing along so they can participate in what's we're doing and experience what we're talking about. It's a very successful event and we're presented with a beautiful picture coffee table book about Kazakhstan and a trophy. Afterwards there's a short press conference with a few newspapers and local TV stations.
Our first masterclass is at the Philharmonic. The audience is largely music students, teachers, and local professional musicians with some general audience in attendance. Along with teaching jazz, getting some audience participation and talking about how to become a highly trained musician we challenge the audience that we would like to learn from them. A local piano teacher jumps on stage and teaches us a Kazakh folk song 'Kamazhai' on the spot. After hearing it a few times we try a version of it. We promise the audience that we'll have an arrangement of it for our performance at the International Aktobe Jazz Festival the next day. Everybody is happy with lots of pictures and autographs afterward. We find out that a traditional Kazakh ensemble will be playing at the Philharmonic that evening and we decide we need to see some of that show before dinner. That night we see 30 minutes of the show then have dinner at a traditional Kazakh restaurant with some local Peace Corps volunteers stationed in the area. I'm really curious and this is my real opportunity to eat local food so I try fermented mare's milk and horse meat. Not bad. Back to the hotel for our first full nights' sleep since we left New York.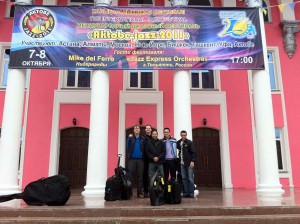 Next day we have a soundcheck at the Philharmonic around noon time for our first performance of the tour. I'm glad to be a part of the International Aktobe Jazz Festival here. We get the sound set and keep working on our 'Kamazhai' arrangement. We find that there will be other Kazakh instrumental and vocal groups there playing "Kazakh jazz" music and one of Tim Armacost's old friends from Holland, pianist Mike Del Ferro, is headlining the whole festival. That night we play a 4-song set including "Kamazhai" (see video). The audience goes crazy. We end with "Maria" the song from Suriname that will be on the "Americas" CD coming out soon. 450 wildly applauding fans at the end of the show and we're feeling good. We stay a bit for a Kazakh a cappella vocal jazz group then head for a Soviet-style dinner at an old Russian restaurant.
Wow! This Soviet-themed establishment really kept the vibe with relics from the early 1900s and very old maps, typewriters, computers, a large Soviet-style pool table (larger than American and all the play balls are white and the cue ball is red), posters and portraits of Soviet leaders. I feel like I'm in a different world. The food is fabulous as I had a Borsch soup (beef and vegetables) as a starter then lamb and vegetables cooked and served in a small iron pot. After dinner and plenty of pictures there we head back to hear the end of Mike Del Ferro's set and gather the rest of our equipment. Successful day, we're still jet lagged but ready to do another workshop in the morning before flying back to Astana.
I didn't know how special this day was going to be. We're doing a jazz workshop for an orphanage in the village of Tamdy about an hour drive outside of Aktobe. We arrive and again I feel like I'm in a different world. Rural area mostly agricultural where Kazakh and Russian is the primary language. Many of the houses are very simple with clothes lines, animals outside and most houses have an old, giant satellite dish. We arrive at the rural orphanage and it's apparent the principal and teachers here are totally dedicated to their calling of educating and being mentors to the children here. We're told there's a few students who want to perform for us. We sit down to hear them first. I'm moved. Their peers are cheering them on as they sing and perform their music mostly Kazakh pop music that's on the radio right now. We applaud them. There are about 60 children here ages 8-14. We want to teach them about jazz, inspire them to study hard and be curious about the world around them. Our arrangement of "Kamazhai" comes in real handy as we use that and variations on "Happy Birthday" to show improvisation on a set song and form. We do some group improvisation exercises and play another song. Afterward we have a round of pictures and autographs and everyone is happy. We leave Tamdy and head to pick up our things at the hotel before going to the airport in Aktobe for a flight back to Astana. After arriving just before midnight we're ready for our first rest day the following morning. Astana is a beautiful city. We already have an idea what we'd like to visit as it's our only day off in Kazakhstan.