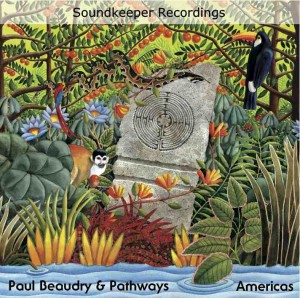 Paul Beaudry & Pathways will be releasing their second CD Americas on May 17th at the Kitano. Released by the Soundkeeper Recordings label the music features some of the songs we heard and played on our 2010 Rhythm Road tour to Trinidad & Tobago, Suriname, Nicaragua and Honduras as well as songs from four other countries in the Caribbean and South America. Songs included are: "Every Time Ah Pass" (Trinidad), "Maria" (Suriname), "Nicaragua Nicaraguita" (Nicaragua), "El Bananero (The Banana Vendor)" (Honduras), "D'leau" (Haiti), "El Panuelo De Pepa" (Cuba), "Zamba Alegre" (Argentina), "O Que E Amar" (Brazil) and lastly "Harmonia Mundi" (USA) written by our pianist, Bennett Paster. Many of the songs are popular folk tunes but played using our original arrangements and keeping their Caribbean or South American flavor.
The music we play on May 17th will feature mostly songs from the new Americas CD but we'll also play a few from our first release (Paul Beaudry & Pathways) and some we learned from our latest tour to Kazakhstan, Kyrgyzstan, Bangladesh and India. It will be a mixed bag of music and definitely a night to remember! Also we'll be signing CDs and it will be the first opportunity to get one in person.
Sets are at 8pm and 10pm and the address is The Kitano, 66 Park Ave (at East 38th St), New York, NY 10016 featuring their new jazz room! There is a $10 cover and a $15 food/drink minimum per person per set. Come party with us, this release has been highly anticipated internationally since our return from our 2010 Latin American tour.